6 May 2022: Please check out the Newsletter page for the latest TCHVA Newsletter. It has updated info on our 21-26 June 2022 TCHVA Reunion and other tidbits of gouge from your Board. Enjoy!
2 May 2022: The TCHVA Reunion is just around the corner! Reservations to guarantee the special rate for the hotel must be made no later than Saturday, 21 May 2022. Please check out the 2022 TCHVA Reunion page for additional info and to download your reservation form as well as check on the latest list of attendees planning to be there.
11 March 2022: Take a minute to check out the latest on the June TCHVA Reunion, updated list of planned attendees, and the latest info regarding relaxation of Covid restrictions in the DC area..
13 February 2022: Please check our latest Newsletter (Feb 2022) at the Newsletter page!
31 January 2022: Please check out the list of shipmates, family, friends & guests who have registered to attend the TCHVA Reunion, 21 - 26 June 2022 in Washington DC. Just click the page 2022 TCHVA Reunion on the left side of the page. Hope to see many more of you there. It should be another great event.
11 January 2022: The Brochure and Registration Form for the TCHVA 21 - 26 June 2022 Reunion is now available! Simply visit the 2022 TCHVA Reunion page and cick on the specified link. Hope to see many of you then!
28 December 2021: Hello shipmates - Our NEW USS Thomas C Hart (DE/FF-1092) Veterans Association website is under construction, and is due to launch in mid January 2022. Thank you got your patience! Webmaster
22 December 2021: On behalf of our Board and all of our TCHVA Members, we'd like to extend our most Hart-felt wishes for a Merry Christmas and Happy & Healthy New year.

2022 promises to be a big year for our association as we roll out our new Website sometime in January, as well as continue to move towards our TCHVA Reunion in Washington DC from 21 - 26 June 2022. We have completed edits to the agenda and you should be seeing a brochure for the event soon. Your continued support of TCHVA makes this all possible, so thanks again for staying with us and get the word out to as many former shipmates as you can to come onboard!

Sincerely/Your Web Team
26 October 2021: We are in the process of redesigning and moving our web site to a new domain and Webmaster! We've been working on this for a few months now, and are hoping to roll out the new site before the end of our current domain contract expires in January 2022. In the interim there may be some disruption and delays in functionality, but we're hoping to keep that to a minimum. So stay tuned!
27 June 2021: Members can check out the updated Master Roster (password protected) by visiting the Members Only page! Enjoy...
18 May 2021: We have recently learned of the passing of RMC Jack McKenzie, a TCH plankowner. One of the momentos Chief Mac had was a commemorative wooden plaque of his service onboard. If you'd like to see a video of this plaque being made, please go to the USS Thomas C Hart Commemorative Plaque page and click on the link at the bottom of the page. As we bid to all our shipmates who have passed, we wish Fair Winds and Following seas Chief.
20 March 2021: Please check out the latest TCHVA Newsletter at the Newsletters tab on the left. Enjoy!!!
7 March 2021: The TCHVA Reunion planned for 22-26 June 2021 has been regrettably cancelled. Please check out the 1MC - Attention All Hands tab or the 2021 TCHVA Reunion tabs for additional info.
25 January 2021: We have included a new Members Only page to the web site. It will be available to ACTIVE Members only. The TCHVA Board is looking for ways to provide some value to our former shipmates by including some tailored info and/or data that may be interesting and of value to Members of TCHVA.
In order to view this page, you will need a Logon email address and Password. Our Secretary will be emailing all current members with the required Logon email address and password. We ask that you please respect all other current active members by not sharing this information with anyone else.
As this page is new and evolving, we are considering other types of information we may want to limit to active members only. The Logon address and Password will be included in the Welcome Aboard email to any new member. The Logon data will be changed at least annually, with active members so advised.
We thank you in advance for your cooperation.

11 January 2021: Please take a moment to check out the TCHVA June 2021 Reunion brochure link located in the 2021 TCHVA Reunion page. The link to that page is to the left! Should be another wonderful event. Keeping our fingers crossed that the Covid pandemic will be a thing of the past by then. Cheers!
2 January 2021: Happy New Year to all! Hopefully 2021 will lead to a better year, with an end to this terrible Covid pandemic in time for us to enjoy the June 2021 TCHVA Reunion in Herndon VA/Washington DC greater area. One sad note is that we had to drop a number of you from our Membership Listing as your membership lapsed at the end of 2020. But the good news is that it is very easy to renew for as little as $20.00 for a 2-year membership. So please take a moment to renew via the JOIN TCHVA link to the left and start 2021 off on the right foot! Looking forward to seeing you back onboard.
28 December 2020: As we come to a close on what has been a very challenging 2020, here's wishing you all a very Happy & Healthy (and hopefully far better) New Year in 2021. Keeping our hopes up that the Covid pandemic will be under control such that we can hold our much anticipated June 2021 TCHVA Reunion in the Herndon VA/Wasington DC area. We have a few more events to nail down in our planning, but for the most part we have a very solid and entertaining venue planned for all. So again, keep those fingers crossed!
And as a reminder, please take a moment to check out the Member Listing tab to see if your membership is expiring (or has expired) in 2020. If your name has (2020) indicated, then you are one of those. So please take a moment to renew (or join) the TCHVA, only $20.00 for two years, and we look forward to seeing you at the reunion!
24 December 2020: On behalf of the TCHVA Board of Directors and to all our members, shipmates, families and friends, we'd like to wish you all a very Merry Christmas and a Happy and most importantly Healthy & Safe New Year in 2021. Hoping Santa brings us relief from the pandemic so we can enjoy our TCHVA Reunion planned for this upcoming June. So stay safe, keep your fingers crossed, and hope for the best come June 2021!
7 Dec 2020: On this date in 1941 our Navy suffered terrible losses in the attack on Pearl Harbor. Today is a time to reflect on the sacrifices of those who lost their lives on that fateful day. We shall never forget the day that lived in infamy, and spawned the rise of an even more powerful Navy that helped carry our country to victory in WWII.
23 November 2020: On behalf of the entire TCHVA Board, we'd like to extend our heartiest wishes to all for a most happy and healthy Thanksgiving. We certainly understand what this continuing COVID pandemic is doing to our everyday lives, family gatherings, and travel plans. So if you are planning a gathering or travel, please take all the recommended precautions and safeguards. We want you to be safe and ready to join us at our 2021 TCHVA Reunion this coming June 2021. Hopefully by then we'll have the Safe to Sail order. Cheers!
2 October 2020: Please check out the 2021 TCHVA Reunion page for the latest gouge on plans for this event. Hopefully we will be over this terrible pandemic and back to some semblance of life as normal. One can always hope!
22 August 2020: Please take a moment to check out current info on plans for the June 2021 TCHVA Reunion in Reston VA/Washington DC. Just click on the 2021 TCHVA Reunion tab to the left. Our hopes are the current COVID-19 projections will still allow us to move this event along, but as always, we will proceed as the medical "experts" (of which there seems to be no shortage of at the moment) predict or recommend. The health and safety of our shipmates and family remain at the forefront of our planning efforts.
27 April 2020: Please take a moment to visit the TCHVA Comemorative Plaque page to see the final design approved by a vote of those who donated to this effort. Our plan is to have this plaque dedicated during our next TCHVA Reunion in June 2021 in Reston VA, just outside Washington DC.
18 April 2020: Please check out our latest Newsletter by clicking on the Newsletters link.
18 March 2020: Please take a moment to visit the TCHVA Member Listing page to see if you are one of the folks whose membership expired in 2019, or will expire in 2020. For folks whose membership expired in 2019, you should have received an email indicating your membership expired and asking you to consider renewing. We will be removing those names from the Member Listing on 31 March 2020, so please consider renewing so we can keep you on our list of active TCHVA members.
1 January 2020: Wishing you all a most Happy and Healthy New Year!!!!
Click Here to See What You Could be Missing at the Next Reunion!!!
13 August 2019: It is with a heavy heart that we report the passing of one of TC Hart's former commanding officers CAPT Frank Whalen. Fair winds and following seas Captain. His obituary is posted in the Eternal Deployment page.
11 August 2019: Check out the latest info on plans for the 2021 TCHVA Reunion in Northern VA on the 2021 Reunion Planning page!!!
18 July 2019: Shipmates looking to join or renew memberships will have to delay a bit as we transition all our banking and transactional authorities to our new Treasurer Dennis Paul. Your patience is appreciated.
15 July 2019: The votes have been tallied and Northern Virginia has been chosen for the 2021 TCHVA Reunion! So keep an eye on the 2021 TCHVA Reunion page on this website, or look at the USS Thomas C. Hart (FF 1092) Facebook page for future updates as we begin to work with our planner for yet another successful event. Thanks to all the TCHVA shipmates who attended our reunion in Rapid City, SD, and worked towards the location for 2021.
5 July 2019: Hope all had a safe and happy Independence Day celebration! Pls check out the new 2021 TCHVA Reunion page on the Navigation Bar to the left. We will be providing updates and news of the planning efforts for our 2021 Reunion, so take a moment to check it out.
13 June 2019: Please see the 2019 Reunion - Rapid City SD page for info about this reunion and plans for 2021!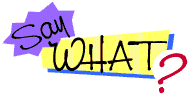 "I can imagine no more rewarding a career. And any man who would be asked in this century what he did to make his life worthwhile, I think can respond with a good deal of pride and satisfaction: 'I served in the United States Navy."
- John F. Kennedy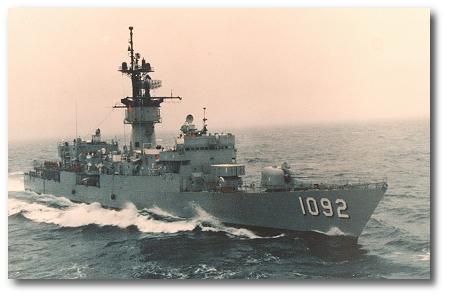 Photo taken during Artic Sharem - 1984 North of Iceland - Approaching AOR-2 for RAS
Welcome Aboard the USS Thomas C. Hart (DE/FF-1092) Veterans Association's homeport on the web! We hope you enjoy your visit. Some of our pages on this site feature audio when you visit the page so turn up your volume to enhance your experience. If you ever served aboard the TCH, we'd love for you to join us. Everyone is welcome to look around and sign our Decklog (guestbook). Association members are invited to visit the "Members Only Lounge" for posting comments and discussion items. If you have photos or ideas for the site, please let us know! If your'e a TCH vet, please be sure to "Muster" on the Sailing List page.


TCHVA Members: It's time to renew your memberships! The low, low rate of $20 for membership dues will grant you a 2-year membership! Click the "Join TCHVA" page on the left to join/renew your membership. Check the current Member Listing Page to see if your name is listed. If it isn't your membership has expired. But it is never too late to join or renew your membership. Your dues help us in so many ways, and helps you see what's going on with our reunion plans, catching up with former shipmates and friends, keeping our website afloat, etc. Every penny of your dues go directly into TCHVA activities, no one gets paid. Everyone associated with oversight, management and operating the TCHVA are volunteers. So please consider joining us today!
Newly Arrived - TCHVA Membership cards!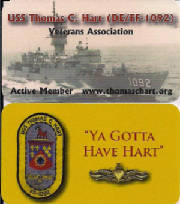 Get yours now!