6 May 2022: Check out the latest gouge at the Newletter page contained in the May 2022 TCHVA Newsletter.
2 May 2022: Please take a moment to check out the TCHVA 2022 Reunion page to download your brochure and reservation form, as well as reserve your room at the hotel for this event. Reservations for the reunion which is 21 - 26 June 2022 must be made no later than Saturday, 21 May 2022 to guarantee the special TCHVA rate.
13 February 2022: Some of you may have seen a similar notice on our Facebook page. But a military jacket with the TC HART name as well as name "Leonial" and Med Cruise 1988 on it was left behind in an establishment in Cleveland, OH. The Veterans Association in Delaware County has it and is trying to find its owner. We believe the jacket belongs to Leo Wright, we have not been able to locate him, but if anyone has a clue as to where he might reside these days, please Contact Us and we'll try to get the jacket to its rightful owner.
In addition, we have posted our latest Newsletter (Feb 2022) on the Newsletter page. So please check it out!
UPDATE: The owner of the jacket has been found and the jacket is enroute. Thanks to all for your support.
31 January 2022: Please take a moment to check the 2022 TCHVA Reunion page to see who is currently registered to attend this year's event. Should be a blast!
11 January 2022: Please visit the 2022 TCHVA Reunion page to download the Reunion Brochure and Registration Form. Hope to see many of you then!
22 December 2021: Merry Christmas and Happy New Year from all of us at the TCHVA! And 2022 is shaping up to be a great year with our new website this coming January, as well as or TCHVA Reunion in Washington DC from 21 - 26 June 2022. You should be seeing a brochure for that event soon! So please help get the word out.
27 June 2021: Members can check out the updated Master Roster (password protected) by visiting the Member's Only page.
24 March 2021: Please take a moment to check out the latest TCHVA Newsletter by clicking on the Newsletters tab to the left. Cheers!
20 March 2021: While the planned TCHVA Reunion scheduled for 22-26 June 2021 had to be cancelled, several shipmates have opted to get together for a little impromtu RV get together that they'd like to offer to others to join in. Garry Collins, John Ebata and Jerry Leatherwood have booked reservations in Memphis TN at a campground just across the street from Elvis' Graceland mansion running from 20 June thru 27 June 2021. Here's a link to to that campground: https://www.graceland.com/rv-park-campground. They are planning to arrive on either Sunday or Monday (20/21 June) and departing on either Saturday or Sunday (26/27 June).

If anyone is interested in joining in the RV/Camping fun, they're inviting anyone to drop by for a visit - the more the merrier as the saying goes! And if you can't stay for the entire period, no problem, just tailor your stay to your own schedule.

Contact info for our campers as follows: Garry Collins at garrysea@gmail.com; John Ebata at jebata01@gmail.com; and Jerry Leatherwood at jerrylwood1038@gmail.com. If you decide to join them and book reservations, please mention that you are part of this group to request a site near them.
Click Here for Graceland RV Park info
7 March 2021: It is with great regret and sadness that due to the continued and forecasted uncertainty of the COVID pandemic and other issues of unrest surrounding the Washington DC Capitol District and surrounding areas, the TCHVA Board in conjunction with our reunion planner has decide to cancel the 22-26 June 2021 reunion in Herndon VA/Washington DC. We are working diligently with our planner, hotel, tranportation and site managers to reschedule the reunion in 2022.

Please take a moment to click on the link below for additional information.

And again, we sincerely regret any disappointments, at least at this time. Hopefully all will be forgotten and forgiven when we can hopefully make this event more enjoyable for all next year.
Click Here for Update on TCHVA June 2021 Reunion Cancellation
25 January 2021: Please note that we have included a PHOTOS page to our site. We have dug through some archival data and located a number of old phots submitted by shipmates in the past. We will continue to look for old albums, etc., to post to bring back some of those great (at least we hope they were great) memories. Enjoy!!!
11 January 2021: The brochure for the June 2021 TCHVA Reunion in Washington DC/Herndon VA can be found in the 2021 TCHVA Reunion page. Check it out!
2 January 2021: Happy New Year to one and all. Here's hoping for a refreshingly Happier & Healthier 2021. As indicated previously, we had to sadly remove a number of shipmates from the Menbership Listing as a result of dues lapsing in 2020. But the cure is simple enough: just hit the JOIN TCHVA link to the left and for as little as $20 you can renew for another 2 full years! So please take a couple of seconds to complete the form and fire off your dues and Voila, you're baaaaack!!!!!!
28 December 2020: Wish you and your families/friends/significant others a very Happy & hopefully Healthy New Year in 2021. Hopefully Covid will become a thing of the past and we can all look forward to enjoying our 2021 TCHVA Reunion in June 2021 in the Herndon VA/Washington DC area. Please check the 2021 TCHVA Reunion tab for the latest info. Just a few more events to nail down and we'll be good to go, health conditions permitting.

Also check the Membership tab to see if your membership is expiring (or has expired) this year. Any member with a (2020) after their name is at risk of being dropped from our rolls, so please take a moment to renew (or join), and at $20.00 for two years, you gotta admit that's a pretty good bargain.
24 December 2020: Wishing all our members, shipmates, families and friends a very Merry Christmas and a Happy and Healthy New Year in 2021. Hope Santa brings us relief from Covid so we can enjoy another great TCHVA Reunion in June 2021! Cheers!!!
7 December 2020: Please take a moment to check out the latest TCHVA Newsletter by hitting on the Newsletter link on the left.
23 November 2020: Please take a moment to check 2021 TCHVA Reunion page for the latest planning efforts and itinerary. We certainly have our fingers crossed that this event will happen. Until then, have a Happy & Safe Thanksgiving.
2 October 2020: Please check out the 2021 TCHVA Reunion page for updates on this event.
22 August 2021: Please take a minute to check the 2021 TCHVA Reunion tab on the left for any updates to plans for that event.
27 April 2020: Check out the final version of the TCHVA Comemorative Plaque for dedication at the US Navy Memorial in Washington DC as part of our next TCHVA Reunion in June 2021 in Reston VA. Just click on the link to that page.
18 April 2020: Check out the latest Newsletter by clicking on the Newsletters link!
21 March 2020: On behalf of the TCHVA Board of Directors, we send our prayers and best wishes to all during this very challenging time for our nation with the Coronavirus pandemic. We hope you are taking all the necessary precautions and playing it safe to avoid becoming a victim or possibly infecting others. Hopefully this will all pass very soon and we can all return to our normal routines and lifestyles.
18 March 2020: Please note that we are updating our Member Listing page, and folks whose membership expired in 2019 will have their names removed on 31 March 2020 unless you renew your membership (only $20.00 for 2 years!). We'd certainly welcome your renewal to keep our TCHVA going strong and charging headlong into our planning for our TCHVA Reunion 22-27 June 2021 in Reston, VA (just outside Washington DC).
1 January 2020: Wishing you all a most HAPPY and HEALTHY NEW YEAR!!!!
16 December 2019: Please check out the latest Newsletter as well as the updated list of donors to the TC HART commemorative plaque fund drive by clicking on the corresponding links on the left side of this page.
2 December 2019: We have met our goal of $3000.00 in donations for our Thomas C Hart Commemorative Plaque to be posted in the US Navy Memorial in Washington, DC. Thank you so much for your generosity and please stay tuned for more info on this effort as we proceed to the planning and design phase.
In general, this page is where we'll list announcements, items of interest, and news about shipmates. If you'd like to post information here, please click the link and let us know. Also, more importantly, if you know the whereabouts or how to contact other TCH shipmates who aren't TCHVA members or registered on our sailing list, please submit that information as well so we may contact them.

Welcome shipmates. If you would like to share your contact information with our TCHVA members, please complete the form below. This information will not ever be made public or shared with any non-TCHVA member. By providing your contact information, we will incorporate the information in our master TCHVA database to which TCHVA members have access. Thanks

As the founder, past President, and current Secretary of TCHVA, I'd like to thank everyone who has helped build the Association! The membership has grown and we continue to grow! Those of you who are visiting the site for the first time searching for shipmates or glimpses of the past, I'd urge you to consider joining the Association and above all, attending the upcoming Newport reunion! Unless you have attended a reunion, you just can't imagine the feeling when you are suddenly face to face with your shipmates from decades ago! The memories of foreign ports, liberty adventures, the faces of shipmates, and much more all come flooding back to your mind!
When I started TCHVA years ago as a labor of love, I did so because my days on TCH were some the best of my 22 year career! TCH was a great ship; we had great leaders in our CO's, a hard working and superbly talented crew, and one heck of a lot of fun! Naturally, there were times we'd all like to forget as well but when the "big picture" is considered - TCH stands out as one great tour! As you may know the TCH is now in the hands of the Turks, and some say, she is destined for scrapping soon. While that would be unfortunate, we who sailed her know that the ship is just a mechanical "thing". A ship can do NOTHING without a crew. What really gives life and spirit to a ship is the crew that puts her to sea! You were the very "HEART" OF HART. It is that "HEART" that we gather to celebrate and remember. It is all about you - the crew of TCH! Godspeed!
Garry Collins (Suppo 86-89)

JOIN or RENEW NOW. YOUR $20 MEMBERSHIP FEE WILL PAY YOUR MEMBERSHIP FOR 2 FULL YEARS! Click the "Join TCHVA" page on the left!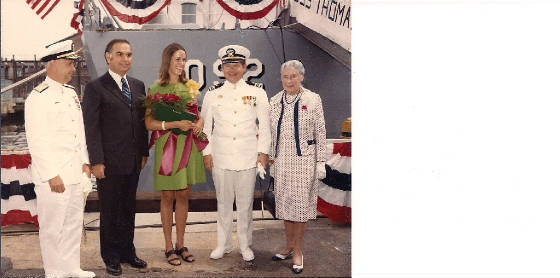 Submitted by Kerry Long
Commissioning day VIP's: RADM Rumble, First District Commandant, Congressman Joe Moakley, Penny Hart Bragonier, LCDR Ronald Forst, and Caroline Brownson Hart, Penny's mother and widow of Admiral Hart.

"YA GOTTA HAVE HART"
Where did the phrase "Ya Gotta Have Hart" originate? Click here to find out!

Attention TCHVA Members! - Has your email address or other personal information changed? If so, please report it here so we can update our records.
Click here to email Secretary about your dues status!

Captain F. Richard "Dick" Whalen, USN (ret), CO (81 - 83) is also an accomplished artist, specializing in marine art. Click the below links to learn more about Captain Whalen and his art!
Click to read about CAPT Whalen's art!

Tommy Sexton has found some interesting reflections. Click the "Navy Experience" link below to bring back some shared memories of your Navy LIfe.

Photo courtesy of Capt Dick Whalen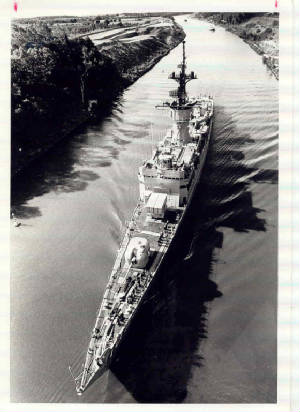 TCH transits Germany's Keil Canal enroute "Kieler Woche"

All Hands (TCH Vets Only) - Click the "Yellow Banner" below to visit the Ship's Office so you can add your name to the Master Sailing List for TCH!